Background Check:
All Patel Conservatory volunteers must undergo a background check prior to volunteering.
Sign Up:
Sign up to volunteer now at SignUpGenius.com: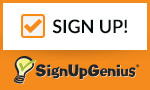 Volunteer Opportunities include:
Backstage
Assist young performers backstage and in the dressing rooms with costumes, hair, and make-up. Escort performers to/from stage wings and photo sessions. Annual background check needed.  Here are some instructions and helpful tips for backstage volunteers.
Costume Shop
Use hand or machine sewing to alter or repair costumes. Iron or steam costumes. Take apart seams. Attach name tags, flowers. No experience necessary!
Teacher Appreciation
Help with activities and gifts to give our hard-working faculty and staff a much-needed treat.
Cast Parties / After-Parties
Bring a dish for a putoluck or help with planning, set-up, decorations, activities, and/or clean-up.
Spirit Shop
Help us operate our online store. New ideas for branded products are always welcome! All proceeds from our Spirit Shop benefit Patel Conservatory students.